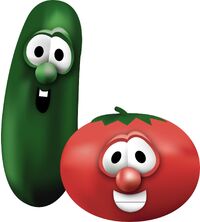 VeggieTales is an American series of children's computer animated films featuring anthropomorphic vegetables in stories conveying moral themes based on Christianity. They frequently retell Biblical stories, sometimes anachronistically reframed, and include humorous references to pop culture in many different eras by putting Veggie spins on them (e.g., classic literature, TV shows, etc.). The series was developed by Big Idea Entertainment.
List of VeggieTales Films
Ad blocker interference detected!
Wikia is a free-to-use site that makes money from advertising. We have a modified experience for viewers using ad blockers

Wikia is not accessible if you've made further modifications. Remove the custom ad blocker rule(s) and the page will load as expected.