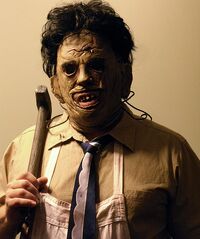 The Texas Chainsaw Massacre is an American horror franchise consisting of seven slasher films, comics, and a video game adaptation of the original film. The franchise focuses on Leatherface, and his family, who terrorize unsuspecting visitors to their territory, and typically kill and cannibalize them. The original film was released in 1974, and was written and directed by Tobe Hooper, with additional writing credit going to Kim Henkel. Hooper and Henkel were involved in only three of the later films. The film series has grossed over $235 million at the worldwide box office, and ranks eighth in the United States box office in adjusted 2013 dollars when compared to other American horror franchises.
List of The Texas Chainsaw Massacre Films
Ad blocker interference detected!
Wikia is a free-to-use site that makes money from advertising. We have a modified experience for viewers using ad blockers

Wikia is not accessible if you've made further modifications. Remove the custom ad blocker rule(s) and the page will load as expected.