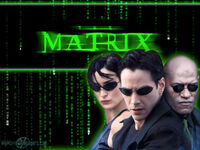 The Matrix is a science fiction action media franchise created by Andy and Larry Wachowski and distributed by Warner Bros. Pictures. The series began with the feature film The Matrix (1999), and continued with two sequels, The Matrix Reloaded (2003) and The Matrix Revolutions (2003). The characters and settings of the films are further explored in other media set in the same fictional universe, including animation, comics, and video games.
The series features a cyberpunk story incorporating references to numerous philosophical and religious ideas. Other influences include mythology, anime, and Hong Kong action films (particularly "heroic bloodshed" and martial arts movies).
Two of the Matrix video games, both supervised by the Wachowskis, are a part of the official chronology. Enter the Matrix, mainly focused on Niobe and Ghost and also written by the Wachowskis, connects the story of the short animated film Final Flight of the Osiris with the events of Reloaded, while The Matrix Online is a direct sequel to Revolutions.
List of The Matrix Films
Ad blocker interference detected!
Wikia is a free-to-use site that makes money from advertising. We have a modified experience for viewers using ad blockers

Wikia is not accessible if you've made further modifications. Remove the custom ad blocker rule(s) and the page will load as expected.