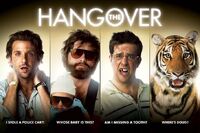 The Hangover is a franchise of three American road comedy films written and directed by Todd Phillips, and starring Bradley Cooper, Ed Helms, Zach Galifianakis, Justin Bartha, and Ken Jeong. The trilogy chronicles a quartet of friends known as the "Wolfpack" (consisting of Phil Wenneck, Stuart "Stu" Price, Doug Billings, and Alan Garner). The first two films depict three of the four men on a mission to locate a missing friend after losing him during a night of debauchery before a wedding. The third film depicts a road trip in lieu of a wedding or a bachelor party. Despite mixed reviews from film critics, the franchise has grossed over $1.4 billion worldwide.
List of The Hangover Films
Ad blocker interference detected!
Wikia is a free-to-use site that makes money from advertising. We have a modified experience for viewers using ad blockers

Wikia is not accessible if you've made further modifications. Remove the custom ad blocker rule(s) and the page will load as expected.