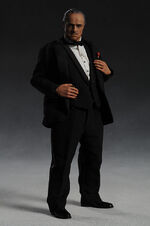 The Godfather is a film series consisting of three feature-length crime films directed by Francis Ford Coppola based upon the novel of the same name by Italian American author Mario Puzo. The first two films of the series were written, filmed, and released just years apart in the 1970s, while the third installment didn't come out until 1990. They were distributed by Paramount Pictures.
The three films follow the fictional Corleone Mafia family through the course of its history in the United States of America and their homeland Sicily. The early plot line begins with patriarch of the family Vito Corleone's (Marlon Brando) decline and exit from the family business and the passing over of the control to his youngest son Michael (Al Pacino) who then becomes the major focus of the films. After seizing control, Michael uproots the family from New York and moves out to Las Vegas where he gets involved in a business transaction in the unstable Cuba, which he manages to get out of. Years later, Michael has pulled out of the mafia world and attempts to buy a good reputation through various acts of charity.
The series achieved success at the box offices, with the films earning over $550 million worldwide. The films were critically acclaimed and the first film, The Godfather, is seen by many as one of the greatest films of all time. The first sequel, The Godfather Part II, is viewed by many as the best sequel of all-time. The series is heavily awarded, winning 9 out of 29 total Academy Award nominations.
List of The Godfather Films
Ad blocker interference detected!
Wikia is a free-to-use site that makes money from advertising. We have a modified experience for viewers using ad blockers

Wikia is not accessible if you've made further modifications. Remove the custom ad blocker rule(s) and the page will load as expected.