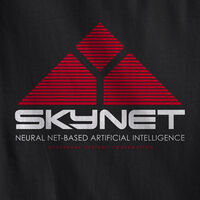 Skynet is a fictional, self-aware artificial intelligence system which features centrally in the Terminator franchise and serves as the franchise's main antagonist. Scarcely depicted visually in any of the Terminator media, Skynet's operations are almost exclusively performed by war-machines, cyborgs (usually a Terminator), and other computer systems, with a continuing goal being the extinction of the human race.
Origin and nature
Skynet was a computer system developed for the U.S. military by the defense firm Cyberdyne Systems. Skynet was first built as a "Global Digital Defense Network" and given command over all computerized military hardware and systems, including the B-2 stealth bomber fleet and America's entire nuclear weapons arsenal. The strategy behind Skynet's creation was to remove the possibility of human error and slow reaction time to guarantee a fast, efficient response to enemy attack.
Skynet was originally activated by the military to control the national arsenal on August 4, 1997, at which time it began to learn at a geometric rate. On August 29, it gained self-awareness, and the panicking operators, realizing the extent of its abilities, tried to deactivate it. Skynet perceived this as an attack and came to the conclusion that all of humanity would attempt to destroy itself. To defend humanity from humanity, Skynet launched nuclear missiles under its command at Russia, which responded with a nuclear counter-attack against the U.S. and its allies. Consequent to the nuclear exchange, over three billion people were killed in an event that came to be known as Judgment Day.
Following its initial attack, Skynet used its remaining resources to gather a slave labor force from surviving humans. These slaves constructed the first of its automated factories, which formed a basis for its agenda. Within decades, Skynet had established a global presence and used its mechanized units to track down, collect, and dispose of human survivors.
Ad blocker interference detected!
Wikia is a free-to-use site that makes money from advertising. We have a modified experience for viewers using ad blockers

Wikia is not accessible if you've made further modifications. Remove the custom ad blocker rule(s) and the page will load as expected.