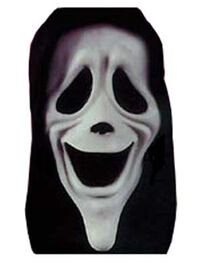 Scary Movie is a series of American comedy films created by Keenan Ivory Wayans with his younger brothers, Shawn Wayans and Marlon Wayans, that mainly specialize in parodying horror films, which have collectively grossed over $818 million at the box-office worldwide. The two main recurring actors of the first four installments were Anna Faris and Regina Hall as Cindy Campbell and Brenda Meeks, joined by new or recurring actors and characters.
The franchise was conceptualized by The Wayans Brothers who wrote and directed the first two films before leaving the franchise. They were distributed by Dimension Films through two different studios: Miramax Films, as it was originally the studio's genre film label during executive producers Bob Weinstein and Harvey Weinstein's run and produced the first three films, and The Weinstein Company, the brothers' newly formed studio, which currently produces the rest of the series' release after departing from Miramax and taking the Dimension Films label with them. The franchise was rebooted in 2013 with Scary Movie 5, which disregards the events of the previous films and begins a new storyline.
List of Scary Movie Films
Ad blocker interference detected!
Wikia is a free-to-use site that makes money from advertising. We have a modified experience for viewers using ad blockers

Wikia is not accessible if you've made further modifications. Remove the custom ad blocker rule(s) and the page will load as expected.