Saw is a horror franchise distributed by Lions Gate Entertainment and produced by Twisted Pictures that consists of seven feature films and additional merchandise. In 2003, Australian director James Wan and screenwriter Leigh Whannell created a short film to help pitch as a potential feature film. This was successfully done in 2004 with the release of the first installment at the Sundance Film Festival. It was released theatrically that October. The sequels were directed by Darren Lynn Bousman, David Hackl and Kevin Greutert, and were written by Wan, Whannell, Bousman, Patrick Melton and Marcus Dunstan, and were released subsequently every October, on the Friday before Halloween, between 2004 and 2010. Both of the creators remained with the franchise as executive producers. On July 22, 2010, producer Mark Burg confirmed that the seventh film, Saw 3D, is the final installment of the series. Series creators James Wan and Leigh Whannell are still open to continuing the series, however, if they can do something "different" with the material. The films collectively grossed over $873 million at the box office worldwide. Lionsgate reportedly expressed interest in continuing the franchise in 2012 with a reboot. However, in November 2013, it was reported that they were in active development of a sequel.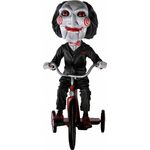 List of Saw Films
Ad blocker interference detected!
Wikia is a free-to-use site that makes money from advertising. We have a modified experience for viewers using ad blockers

Wikia is not accessible if you've made further modifications. Remove the custom ad blocker rule(s) and the page will load as expected.