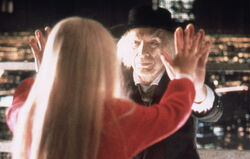 Poltergeist is an American horror film series distributed by Metro-Goldwyn-Mayer during the 1980s. The films revolve around the members of the Freeling family, who are stalked and terrorized by a group of ancient ghosts that are attracted to the youngest daughter, Carol Anne. The original film was co-written by Steven Spielberg. The Poltergeist films collected a total of approximately $132 million in the United States box office.
MGM and Fox 2000 Pictures will co-finance a "revisionist" reboot of the Poltergeist series, to begin filming in late 2013.
List of Poltergeist Films
Ad blocker interference detected!
Wikia is a free-to-use site that makes money from advertising. We have a modified experience for viewers using ad blockers

Wikia is not accessible if you've made further modifications. Remove the custom ad blocker rule(s) and the page will load as expected.