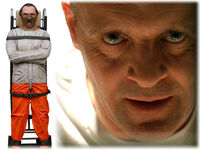 The Hannibal Lecter franchise refers to a series of novels, and their adaptations in other forms of media, that feature the character Hannibal Lecter. The series started with the 1981 novel Red Dragon.
Films and television
The next adaptation was 1991's The Silence of the Lambs, which was directed by Jonathan Demme and was the first film to feature Anthony Hopkins in the role of Hannibal Lecter. Silence was a success, both critically and financially, and went on to become the third film in Academy Awards history to win in all top five categories (Best Actor for Hopkins, Best Actress for Jodie Foster, Best Director for Demme, Best Writing (Adapted Screenplay) for Ted Tally, and Best Picture). Hopkins reprised the role in the next two films, 2001's Hannibal, a sequel directed by Ridley Scott, and 2002's Red Dragon, a prequel directed by Brett Ratner. In 2002, Hopkins revealed that he had written a screenplay for another sequel, ending with Clarice killing Lecter; it was not produced.
In 2007, Hannibal Rising was released. The film is a prequel, directed by Peter Webber and starring Gaspard Ulliel as Lecter.
In 2013, the TV series Hannibal premiered. Developed by Bryan Fuller, it is not a direct adaptation, but based on characters and elements from the novel Red Dragon. Some characters appear under the opposite gender, such as Freddy Lounds, who is renamed Fredricka "Freddie" Lounds.
List of Hannibal Lecter Films
Films
Ad blocker interference detected!
Wikia is a free-to-use site that makes money from advertising. We have a modified experience for viewers using ad blockers

Wikia is not accessible if you've made further modifications. Remove the custom ad blocker rule(s) and the page will load as expected.