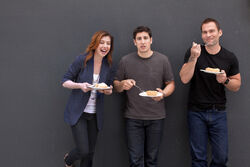 American Pie is a series of teen films conceived by Adam Herz. The first film in the series was released on July 9, 1999, by Universal Pictures, and became a worldwide pop culture phenomenon, spawning three direct sequels. The second and third films were released at two-year intervals, whereas the fourth film was released in 2012 . From 2005 to 2009, four spin-off films were released. A ninth feature film has been announced in response to the success of the fourth installment.
Throughout the first film in the original series, Jim Levenstein (Jason Biggs) tries to develop a relationship with his school classmate Nadia (Shannon Elizabeth), and along with his best friends Kevin Myers (Thomas Ian Nicholas), Paul Finch (Eddie Kaye Thomas), and Chris Ostreicher (Chris Klein), attempts to lose his virginity. In the second film, with good friend, and Finch's frenemy Steve Stifler (Seann William Scott), the friends host a summer party and Jim switches his interest to his friend Michelle Flaherty (Alyson Hannigan). In the third film, Jim and Michelle plan to marry, but the forced invitation of Stifler could ruin everything. In the fourth film, the gang gets back together in anticipation for their thirteenth high school reunion. The spin-off series revolves around relatives of Stifler, including his brother Matt (Tad Hilgenbrink) and cousins Erik (John White), Dwight (Steve Talley), Scott (John Patrick Jordan), and their respective friends attempting similar activities.
The original series, produced on a total budget of US$145 million, has grossed $989 million worldwide. The spin-off films were released direct-to-video. The series has developed a cult following. Critics have given the original trilogy mixed reviews, and overlooked the spin-off series. The series has been released on DVD.
List of American Pie Main Films
List of American Pie Spin-Offs Films
CHARACTERS
| | | | |
| --- | --- | --- | --- |
| Jim | | Finch | |
| Oz | Kevin | Vicky | Heather |
MOVIES
Ad blocker interference detected!
Wikia is a free-to-use site that makes money from advertising. We have a modified experience for viewers using ad blockers

Wikia is not accessible if you've made further modifications. Remove the custom ad blocker rule(s) and the page will load as expected.